What if Ron Paul wins Iowa – and New Hampshire, too?
(Read article summary)
Some say a Ron Paul victory in Iowa would damage the reputation of the caucuses as favoring fringe candidates. But that would change if the momentum helps Paul win in New Hampshire, too.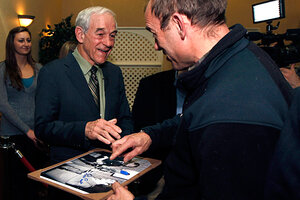 Charles Krupa/AP
Ron Paul is surging in Iowa. In polls of Hawkeye State Republican voters, Rep. Paul has jumped from about 12 percent support on Dec. 12 to 21.7 percent support today, according to the RealClearPolitics rolling average. With Newt Gingrich's Iowa support collapsing, Paul is suddenly the GOP frontrunner there – and the caucuses are only two weeks away.
As Jennifer Rubin of the Washington Post notes in her "Right Turn" blog, there is now a distinct possibility that Paul will win in Iowa. He's got both the poll lead and "a ground game with energized followers that is likely to produce results on caucus night," Ms. Rubin writes.
A Paul victory would burst Mr. Gingrich's bubble, help Mitt Romney by dividing the anti-Romney forces, and make Iowa the object of derision from many Republicans elsewhere, according to Rubin.
She's not alone in saying a Paul win would hurt the caucuses themselves. Paul poses "an existential threat" to Iowa's cherished first-in-the-nation status, write Jonathan Martin and Alexander Burns in Politico, because he has little chance of winning the GOP nomination. A victory for the Texas libertarian would indicate that the caucuses reward candidates "who are unrepresentative of the broader party," the pair write.
---