Iowa caucuses: Can 'relentlessly positive' Gingrich rebound with negativity?
(Read article summary)
Pummeled by his Iowa caucuses rivals' attack ads, Newt Gingrich tries some negativity of his own, calling Mitt Romney a liar and a 'Massachusetts moderate' pretending to be conservative.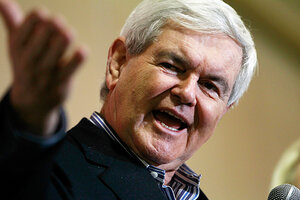 Charles Dharapak/AP
As Iowans prepare to head to the caucuses, things are getting ugly between Newt Gingrich and Mitt Romney.
Forget Mr. Gingrich's promises to keep his campaign "relentlessly positive." After being pummeled in Iowa by attack ads from multiple candidates – and watching his poll numbers dive as a result – Gingrich is launching some attacks of his own.
For starters, calling Mr. Romney a liar.
In recent days, the former House speaker has criticized Romney for not taking responsibility for the actions of the super PAC, Restore Our Future, which backs Romney and has spent millions on ads attacking Gingrich. "Someone who will lie to you to get to be president will lie to you when they are president," Gingrich said in Iowa on Monday.
On CBS's "The Early Show" Tuesday, Norah O'Donnell asked Gingrich to clarify those comments: "I have to ask you, are you calling Mitt Romney a liar?"
Gingrich said yes, and then added, "This is a man whose staff created the PAC, his millionaire friends fund the PAC, he pretends he has nothing to do with the PAC – it's baloney. He's not telling the American people the truth.
---