Newt Gingrich biggest geek in GOP primary race, says Scientific American
(Read article summary)
Newt Gingrich – also known as 'Newt Skywalker' – topped the Scientific American ranking of six GOP candidates. Ron Paul came in third.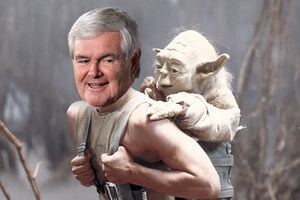 Newt Gingrich – a.k.a. "Newt Skywalker" – is by far the biggest geek in the GOP presidential field, according to a Scientific American ranking.
Mitt Romney comes in second, and Ron Paul is third among the six candidates reviewed.
The ranking makes much of Gingrich's immersion in science fiction, including his love of Issac Asimov's Foundation Trilogy. Here's what Newt wrote about this seminal work while he was Speaker of the House in 1996:
While Toynbee was impressing me with the history of civilizations, Isaac Asimov was shaping my view of the future in equally profound ways….For a high school student who loved history, Asimov's most exhilarating invention was the 'psychohistorian' Hari Seldon. The term does not refer to Freudian analysis but to a kind of probabilistic forecasting of the future of whole civilizations. The premise was that, while you cannot predict individual behavior, you can develop a pretty accurate sense of mass behavior. Pollsters and advertisers now make a good living off the same theory.
---