New Hampshire primary: Will youth vote bring it on Tuesday?
(Read article summary)
Young people in New Hampshire turn out to vote more reliably than do their counterparts nationwide, data show. Ron Paul tops the youth vote heading into Tuesday's New Hampshire primary, a new poll shows.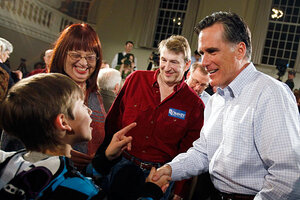 Michael Dwyer/AP
Almost 200,000 18- to 29-year olds are eligible to vote in New Hampshire. They're a small share of the electorate, but they could play an important role in next Tuesday's primary, given that young voters in the Granite State tend to show up at the ballot box more often than do their counterparts nationwide.
Since 1998, they've cast ballots in general elections at a higher-than-average rate, reports CIRCLE, a research center on youth and politics at Tufts University in Medford, Mass.
The high-water mark may have been 2008, when 43 percent of young citizens here participated in the primary elections, amid active races among both Republicans and Democrats. About 33,000 voters under 30 cast ballots that year in the Republican primary, but 39 percent of them said they were "independents."
In 2004, when there was just one competitive primary, 18 percent of the youth segment participated in New Hampshire.
Last week in Iowa, just 4 percent of young citizens showed up to the caucuses, down from 13 percent in 2008, when both parties had competitive presidential races. Tuesday will tell whether New Hampshire youths once again can claim a higher turnout. Of course, casting a ballot is quicker than voting at an in-person caucus, so it's a bit of an apples-to-oranges comparison. (The statistics above are from CIRCLE).
---