Todd Palin endorses Newt Gingrich. Is Sarah next?
(Read article summary)
Newt Gingrich gleefully tweeted that Todd Palin has endorsed him for president. Why does he care? Well, Todd's endorsement could be seen as a proxy endorsement from Sarah Palin.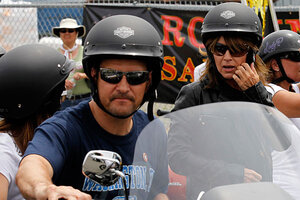 Alex Brandon/AP/File
Todd Palin has endorsed Newt Gingrich, if you haven't heard. ABC News broke this story earlier today. The former Alaska First Dude said everybody in the GOP race was fine, but that he admired the way Mr. Gingrich had soldiered forward following the resignation of his staff last summer.
Gingrich's campaign has "burst out of the political arena and touched many Americans," Mr. Palin told ABC.
Of course, Palin père had not actually talked to the Gingrich team before giving them the nod, which is, um, unusual in endorsement politics. But the ex-speaker quickly said that he's proud to have the endorsement of the world-class snowmobiler who happens to be Sarah Palin's husband.
"Honored to be endorsed by Todd Palin. President Obama has failed. We need a Bold Reagan Conservative in the White House," tweeted Newt.
---