New Hampshire primary results: Is Jon Huntsman toast? (+video)
(Read article summary)
Jon Huntsman bet his campaign on the New Hampshire primary results, but finished a distant third. The only subset of voters he won was Democrats, hardly a base upon which to build a winning run for the GOP nomination.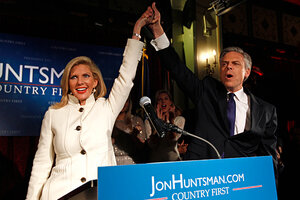 Charles Krupa/AP
Jon Huntsman Jr. did OK in Tuesday's New Hampshire Republican primary. A late surge of support carried his percentage of the vote into the double digits. He finished third, behind Mitt Romney and Ron Paul, and in a speech Tuesday night he tried hard to portray that result as evidence of a gathering storm of Huntsmentum.
"Third place is a ticket to ride! South Carolina, here we come!" said President Obama's former ambassador to China.
But Mr. Huntsman in essence bet his whole race on the New Hampshire outcome, focusing all his time and dwindling cash on the Granite State. He finished a distant third, despite some hints in prevote polls that he might catch Representative Paul for second. Another Mormon ex-governor – Mr. Romney – was the night's big winner. Is the Huntsman campaign toast?
A look inside the New Hampshire results shows that Huntsman's future on the campaign trail may not be a bright one. The former Utah chief executive has stressed his electability on the stump, but he won only 9 percent of New Hampshire voters who said in exit polls that the ability to defeat President Obama was the top attribute they wanted in a Republican candidate. Romney got 62 percent of those votes.
Nor was he the choice of self-described moderates. Romney won the largest share of those voters, too, with Paul second. In fact, the only category of voters who went Huntsman on Tuesday was Democrats, who were able to vote in New Hampshire's open primary. Huntsman took 41 percent of them. That's not a base on which a winning run at the GOP nomination is built.
---