Why Mitt Romney's 15 percent tax rate may not matter in the long run (+video)
(Read article summary)
Republican voters already knew Mitt Romney is wealthy. Now that they know his effective tax rate, chances are they won't suddenly decide he'll have a harder time beating Obama than any of his GOP rivals.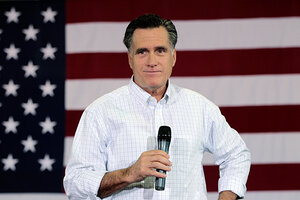 Charles Dharapak/AP
No doubt about it, Mitt Romney has walked into a buzz saw of bad publicity over his income taxes.
First he hems and haws about revealing his returns, before agreeing to release them in April – knowing all along, certainly, that he would have to. Then he lets drop that he pays an effective rate of 15 percent, because his income derives mostly from investments rather than a salary. That's well below the 25 percent President Obama paid and the 23.4 percent Texas Gov. Rick Perry paid in 2010 -– and, of course, well below what middle-class working stiffs pay.
And how about those speaking fees? Mr. Romney also casually mentioned that he makes money giving speeches, "but not very much." Turns out Romney's definition of not very much is $374,327.62, the amount he made from speeches between February 2010 and February 2011, according to his financial disclosure forms.
Romney's opponents for the Republican presidential nomination have roughed up the former Massachusetts governor as best they could over the tax issue – as has Team Obama, which expects to face Romney in November.
But here's why, in the end, the whole tax kerfuffle probably won't matter, both in the Republican nomination fight and, if Romney gets the nod, against President Obama.
---