Will Ron Paul pick up many of Rick Perry's voters?
(Read article summary)
While Perry has endorsed Gingrich, Ron Paul stands to benefit somewhat from his fellow Texan's departure from the Republican race. But then, so do the rest of the candidates.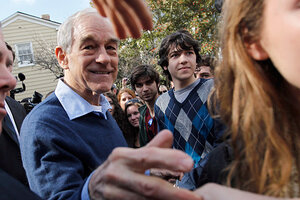 Pablo Martinez Monsivais/AP
Will Ron Paul benefit from Rick Perry dropping out of the presidential race? There's been lots of talk today about how Newt Gingrich might pick up voters from the Perry campaign's demise, but less about how it might affect the libertarian from Texas, who – it must be noted – is now one of only four major candidates left in the race.
Congressman Paul himself joked about picking up Perry supporters Thursday morning. Asked for his reaction to the Perry news by a CBS News reporter, Paul said, "I'm glad, I'll have all his votes!" Then he laughed. Clearly, he was kidding.
"If somebody else likes a Texan maybe [they'll] come to me," Paul continued, then kept moving along shaking hands with supporters.
Strictly speaking, Paul certainly will benefit from Mr. Perry pulling out. Mr. Gingrich won't get all of Perry's support. Paul, Mitt Romney and Rick Santorum will all pick up a share.
According to just-released Public Policy Polling tracking survey results, Gingrich is the second choice of about 26 percent of Perry voters in South Carolina. Mr. Romney gets about the same slice – 26 percent of the now-former Perry supporters.
Paul is in line to pick up 10 percent of Perry's Palmetto State votes, according to PPP. Mr. Santorum will get 15 percent, with 23 percent unsure who they might pick instead.
---