Rand Paul 'detained' by TSA. Does that happen to other senators?
(Read article summary)
TSA could hardly have singled out a worse person for pat-down treatment than Sen. Rand Paul, up-and-coming libertarian standard-bearer and son of GOP presidential candidate Ron Paul. He's not the only one on Capitol Hill to complain about pat-downs.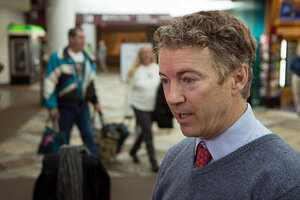 Erik Schelzig/AP
Sen. Rand Paul (R) of Kentucky was detained by the Transportation Security Administration Monday at the Nashville airport, in case you haven't heard. A millimeter wave scanner detected an "anomaly" in the area of his knee, according to Senator Paul, and TSA agents then said he'd have to undergo a full-body pat-down. Paul said he wouldn't submit to such a search and offered to show agents his knee, instead. They said that wouldn't suffice.
This stand-off apparently escalated to the point where Paul was cornered in a cubicle for a bit – that's where the "detained" allegations come in.
Eventually the TSA allowed Paul to board another flight for Washington. The second time through, the scanner didn't see anything in the vicinity of the senatorial kneecap, apparently. This has led Paul to believe that the scanner never saw an "anomaly" at all, and that it is set to go off randomly so as to pick out unwitting travelers for extra-close inspection.
"Two people from the TSA told me there are random bells and whistles that go off," said Paul Monday afternoon during an interview with CNN's Wolf Blitzer on "The Situation Room."
TSA officials confirmed such an incident occurred Monday, but declined to identify the passenger involved as Paul, citing privacy concerns. White House spokesman Jay Carney took a similar approach, and then defended TSA actions.
---