Mitt Romney's disastrous week ends with collapse in national polls
(Read article summary)
Poll numbers for Mitt Romney aren't falling just in Florida. Newt Gingrich is the new top choice among likely Republican voters nationally, the latest Gallup tracking poll shows.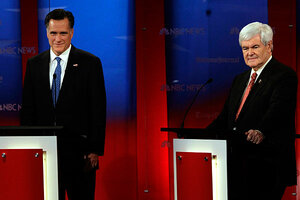 Paul Sancya/AP
It's been a rough week for Mitt Romney.
His debates in South Carolina went poorly. He lost a primary by 12 percentage points that he had thought would be his. A trio of polls over the weekend showed him in a freefall in Florida relative to Newt Gingrich, despite pumping millions of advertising dollars into the state. His income tax returns, finally released, left him open to mockery about his 14 percent tax rate and offshore investments.
And now national polls seem to be going the way of the Florida polls.
The Gallup daily tracking poll – a five-day rolling average – put Mr. Gingrich on top among Republican voters, 31 percent to Mr. Romney's 27 percent, for the first time in well over a month on Tuesday. It's a massive change from the 23-point lead Romney enjoyed just over a week ago.
A Rasmussen poll, meanwhile, also showed Gingrich way up nationally, with 35 percent among likely GOP voters to Romney's 28 percent. "Support for Gingrich has jumped a total of 19 points in two surveys since early January, while Romney's support has held steady in that same period," the report says.
---