Is moon base really the 'weirdest' Newt Gingrich idea? Maybe not.
(Read article summary)
Newt Gingrich once wrote a bill that proposed to clarify when a moon base could apply for statehood. He admitted the bill was a bit odd Wednesday. But it might now prove to be a stroke of brilliance.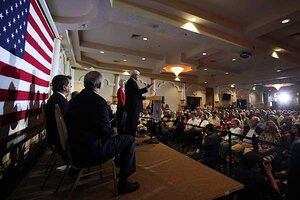 Shannon Stapleton/REUTERS
Newt Gingrich wants to establish a colony on the moon, in case you haven't heard. At a campaign stop on Florida's Space Coast Thursday he promised that the US would have a permanent lunar base by the end of his second term in the Oval Office.
He talked about it as if it would be a lunar Plymouth, mankind's brave foray into a lunar unknown, though he himself did not make that direct comparison. He even put out some ideas as to how the place should be governed.
When Moon Base Gingrich holds enough people, it should apply for statehood, he said.
"I think the moon primary would come late in the [campaign] season," he said, smiling. This was either hubristic or charmingly self-aware, depending on how one views the prospect of the former speaker in the White House.
As Gingrich noted Wednesday, he's outlined his ideas for space self-government before. As a young member of Congress in 1981, he introduced a bill he now refers to as the Northwest Ordinance for Space, but back then went by the more prosaic name of National Aeronautics and Space Policy Act of 1981.
BuzzFeed has dug up an actual copy of this legislation from the Library of Congress, and it's pretty interesting. Much of it consists of an order to NASA to set 30-year goals for everything from a new "operational world information system" (Newt invented the Internet!) to manned Mars and moon missions.
---