Does it matter whom Donald Trump endorses?
(Read article summary)
In the short run, a nod from Donald Trump might give Mitt Romney or Newt Gingrich a little boost in Nevada. But in the long run? A Trump endorsement could turn off some voters, polls show.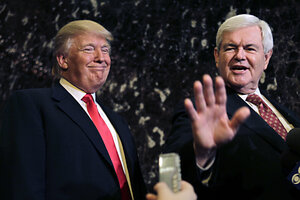 Seth Wenig/AP/File
Whom is Donald Trump endorsing for president? Early Thursday it seemed as if it were going to be Newt Gingrich – that's what the Associated Press reported, anyway. Then the Romney camp swung into action.
Now CNN is reporting that The Donald will go for Mitt. Will it be the insurgent or the front-runner? Stay tuned for Mr. Trump's 12:30 p.m PST (3:30 p.m. Eastern time) press conference in Las Vegas. It's like an episode of "Celebrity Lessons in How to Get Attention."
Anyway, whoever it is, our question is this: Is a Trump endorsement worth it?
In the short run, it might give either Mr. Romney or Mr. Gingrich a boost in Nevada. For one thing, it would get lots of press attention, because reporters flock to anything Trump like moths toward a flaming toupee. Trump remains popular in tea party circles, so it might bolster the endorsee's conservative credentials. Most important, it might draw some support in Las Vegas, gambling mecca. Trump is a gambling mogul, after all.
But the long run? At best, it's a wash. Romney has got so many endorsements that it would be just one more name on his shelf. Gingrich could use it more, though it now looks as if he's going to finish second in this contest, as well. More likely, it's a nod that could damage its recipient. There's a reason that only two GOP contenders, Gingrich and Rick Santorum, agreed to attend a Newsmax debate that Trump was supposed to host last December, before it was canceled. The other contenders weren't going to touch that event with a 10-foot comb.
---