Could Rick Santorum put Newt Gingrich in the rearview mirror Tuesday?
(Read article summary)
With signs that Newt Gingrich is fading, Tuesday's three caucuses could help Rick Santorum woo anti-Romney conservatives. But many challenges lie ahead.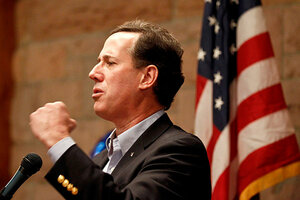 Chris Carlson/AP
Tuesday night is shaping up to be a good night for Rick Santorum.
While polling has been limited in the three states holding contests Tuesday (Colorado, Minnesota, and Missouri), and an unusually high number of voters are uncommitted, pollsters are predicting that Mr. Santorum will win two out of the three and should place a close second to Mitt Romney in Colorado.
The question is: Will that be enough to revive Santorum's candidacy or even put him on a path to nomination?
Despite winning (barely) Iowa's caucuses a month ago, Santorum has been largely an also-ran in the early contests, barely getting mentioned by headlines more interested in Romney, Newt Gingrich, and Ron Paul.
So why is the former Pennsylvania senator surging now?
Likeability might be one factor. According to a recent Public Policy Polling report, responsible for the most up-to-date polls in the three states voting today, Santorum has a favorability rating over 70 percent in all three states. That's in marked contrast to Romney (with favorability ranging from 47 to 60 percent) and Mr. Gingrich (47 to 48 percent).
---