Rick Santorum triumphant as election takes another unpredictable swing (+video)
(Read article summary)
Rick Santorum has been declared the winner in Minnesota and Missouri – by wide margins – and could yet upset Mitt Romney in Colorado. But bigger contests lie ahead.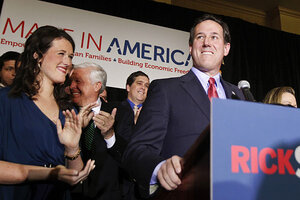 Sarah Conard/REUTERS
Rick Santorum got a big boost to his campaign Tuesday night, notching his first wins of the primary season since Iowa in Minnesota and Missouri, and winning both by a wide margin.
Mitt Romney, the front-runner for the nomination, finished a disappointing third place in Minnesota, behind Texas Rep. Ron Paul, and second in Missouri. Colorado, which Mr. Romney had expected to win fairly easily, was still too close to call late Tuesday night, and a Santorum win was a possibility.
Newt Gingrich, who had downplayed expectations going into Tuesday, had an even worse night, coming in last in Minnesota and likely a distant third place in Colorado. He was not on the ballot in Missouri.
Congressman Paul, who had hoped for a big boost from caucus states, notched a second-place finish in Minnesota, but was third in Missouri and performing poorly in Colorado.
Mr. Santorum's wins were, in some sense, symbolic. Missouri's primary was largely a "beauty contest," since the delegates will be chosen in caucuses in March. Minnesota's and Colorado's caucuses are also nonbinding, although there are actual delegates at stake and the results should help determine the selection of those delegates.
But they are still an important boost to his campaign at a pivotal moment, and seemed destined to prolong the nominating contest and keep Romney from sewing up the nomination quickly, at the least.
---