Ron Paul's secret ninja strategy for Maine caucuses
(Read article summary)
Ron Paul has a strategy for winning more delegates than caucus results in Maine, Colorado, and elsewhere suggest he would. Patience, grasshopper, and we will explain it to you.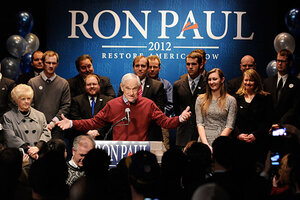 Jim Mone/AP
Ron Paul has a secret, ninja-like Seal Team 6 strategy to win big in the Feb. 11 Maine Republican caucuses. Mitt Romney, Rick Santorum, and the mainstream media won't see Paul's forces coming until they've snatched a majority of the Pine Tree State's 24 delegates and raced off towards August and the national convention in Tampa, Fla.
OK, that's kind of an exaggeration. But it contains a nucleus of truth. The Paul team has a plan for winning more delegates in many caucus states than straw poll votes would indicate Paul is entitled to. Mr. Paul's supporters are proud of this approach, which has "not been clearly reported", as Paul campaign manager John Tate said earlier this week.
We'll use Maine to explain how this works.
On Saturday, Feb. 11, Maine's Republican Party is set to announce the results of a presidential preference poll taken at caucuses held around the state. (While many of those caucuses will take place on Saturday, some towns held theirs weeks ago, as we've previously noted.)
But that poll is non-binding. It's a beauty contest, a straw vote, a mere indicator of personal preferences. It will not be indicative of how the state's delegates will be divvied up.
---