'Crate-Gate' puts Mitt Romney in doghouse at Westminster show
(Read article summary)
Nearly 30 years ago, Mitt Romney put his Irish setter in a crate lashed to the roof rack for a trip to Canada. Democratic protesters at the Westminster dog show were not amused.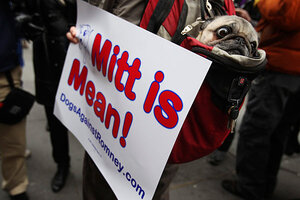 Shannon Stapleton/REUTERS
For Mitt Romney, it's the family road trip that seems to never end.
Almost three decades after Mr. Romney strapped a dog crate, complete with dog, to the roof of the family station wagon for a trip to Canada, the road trip's repercussions have come rambling to the doorstep of the Westminster Kennel Club Dog Show, where a small group of mostly dog-owning Democrats gathered Tuesday in protest.
The story of the trip was first told as an anecdote to illustrate Romney's emotion-free crisis management style in a 2007 article in The Boston Globe. But the episode – sometimes referred to as "Crate-Gate" – continues to haunt the presidential candidate.
It was 1983 when Romney put Seamus the Irish setter on the roof for the trip from Massachusetts to Canada. When one of his sons noticed that the dog was suffering from intestinal discomfort, Romney broke his rule of making only planned stops, pulled over to a service station, and hosed down the side of the white Chevy station wagon.
Despite the interruption, Seamus, who survived the journey but has long since died, rode on the luggage rack the rest of the way.
The Internet attests to the story's enduring popularity.
---