Will Ron Paul win Maine caucuses after all? State GOP taking new tally.
(Read article summary)
The state GOP says a new vote total for the Maine caucuses that tackles all outstanding issues will be announced in March, though it has no bearing on the real prize for Ron Paul: delegates.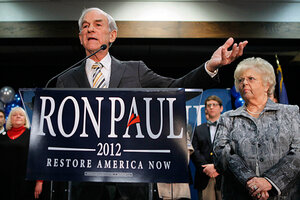 Robert F. Bukaty/AP
Ron Paul might win the Maine caucus presidential preference contest after all.
The Maine state GOP on Thursday announced that in essence it will announce a new total for the straw poll in early March that will include results from Washington County, which has yet to caucus. State Republican chair Charlie Webster added that the party is contacting town officials throughout Maine to "reconfirm" results of caucuses already held.
"All Republicans are keenly aware of the intense interest in the results of the Maine Republican Party Presidential Preference Poll," said Mr. Webster in a statement.
Translation: We're getting hammered because we declared Mitt Romney the caucus poll winner, despite the fact that the vote was incomplete – Washington County canceled due to weather. Oh, and those zeroes entered next to towns that did caucus in the vote totals? We're looking into it. Sorry.
OK, we'll admit we were wrong – we did not think Pine Tree State Republicans would go this far. We've been covering this in close detail and we thought everybody up there wanted to get past the debacle and get to mud season as soon as possible.
---