Could Rick Santorum topple Mitt Romney in Arizona?
(Read article summary)
Mitt Romney has always counted on winning the Arizona Republican primary, but a new poll has Rick Santorum closing the gap ahead of Wednesday's GOP debate.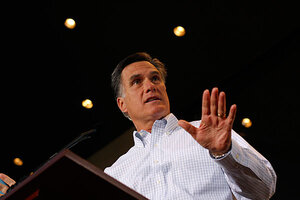 Joshua Lott/REUTERS
While polls in recent weeks have suggested that Mitt Romney is vulnerable to Rick Santorum in his home state of Michigan, he has always counted on winning at least one state in next week's primaries: Arizona.
It's a Western state with a sizeable Mormon population; its Republicans are less socially conservative and more Libertarian than in some Midwest states where Santorum does well; and Mr. Romney has been well ahead in all polls there.
But a new poll from CNN/Time Tuesday suggests that Mr. Santorum may be closing the gap in Arizona as well.
The poll has Romney with 36 percent of likely primary voters, compared with Santorum at 32 percent. Newt Gingrich has 18 percent, Ron Paul has 6 percent, and 6 percent are undecided. The 4 percent difference between Romney and Santorum is within the poll's margin of error – meaning they're essentially tied.
The poll comes on the eve of Wednesday's debate in Mesa, Ariz. -– the last GOP debate before next Tuesday's primaries and the following week's Super Tuesday events.
And it will be a critical debate for both Romney and Santorum. According to the CNN poll, about one-third of voters are still open to changing their mind in the next week.
---