George Clooney arrested: how his protest could help Sudan (+video)
(Read article summary)
George Clooney was arrested Friday during a protest designed to draw attention to conditions in Sudan. With his star power, Clooney might just succeed.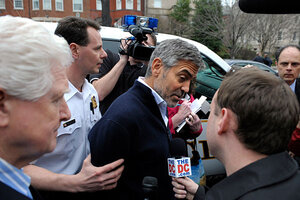 Cliff Owen/AP
Actor George Clooney and his father Nick Clooney were arrested Friday outside the Sudanese Embassy in Washington. They were participating in a protest meant to bring attention to what Mr. Clooney and fellow activists term a growing and needless humanitarian crisis in Sudan.
Sudanese President Omar al-Bashir is blocking food aid from entering the Nuba Mountains in his country's border region with South Sudan, according to Clooney. Sudanese government soldiers have clashed in the area with rebels linked to South Sudan, creating a situation where civilians are desperate for food while missiles and bombs rain down on their land.
"This is a moment where we have a chance to do something because if we don't, in the next three to four months, there's going to be a real humanitarian disaster," said Clooney before police led him away in plastic handcuffs.
Clooney and fellow protesters were arrested after being warned three times not to cross a police line outside the embassy. The high-profile event capped a week in which Clooney met with President Obama to discuss Sudan and testified on the issue before a congressional committee. Clooney and dad were released early Friday afternoon, according to wire service reports.
Will the brief incarceration of one Hollywood actor make a difference here? It's certainly possible. There's a reason Washington interest groups recruit celebrities to front their campaigns – it works. Congressional aides and government officials who don't blink an eye over world leaders will line up to see stars.
---