Ann Romney and Hilary Rosen flap: Must Team Obama always be first responder?
(Read article summary)
President and Michelle Obama both did damage control after Hilary Rosen's off-key comment about Ann Romney and stay-at-home moms. What will happen the next time a Democratic pundit misspeaks in front of the cameras?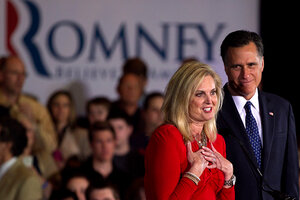 Steven Senne/AP
The Ann Romney flap may have unintentional consequences for Team Obama.
When Democratic activist Hilary Rosen dissed Ann Romney Wednesday, saying she has "never worked a day in her life," the president, first lady, and countless other Democrats swooped in and condemned the slam on the wife of presumptive GOP nominee Mitt Romney. Ms. Rosen apologized for her "poorly chosen" words.
So what happens the next time someone in the vast universe of Democratic strategists and cable TV pundits makes an untoward remark about a critical issue or voter group? Will President Obama or his surrogates have to step in? And if they don't, will Mr. Obama be blamed for tacitly condoning the comment?
Liberal editorialist Jonathan Capehart set up that test Thursday. In a Washington Post blog entry called "Selective outrage: Hilary Rosen vs. Allen West," Mr. Capehart raised the Florida Republican congressman's statement Tuesday that he believes there are "about 78 to 81 members of the Democratic Party that are members of the Communist Party." It's called the Congressional Progressive Caucus, Congressman West said.
Certainly, a preposterous assertion, as Capehart notes. Maybe so preposterous that it doesn't deserve a reply. But then Capehart scolds GOP leaders for not condemning the McCarthy-esque allegation.
As a practical matter, Obama and Company can't strike down every off-key remark by an ally uttered in front of the ever-proliferating cameras. They would start to look like kids at an arcade playing Whac-A-Mole.
---