White House Correspondents' Dinner: Who's coming?
(Read article summary)
Kim Kardashian and Lindsay Lohan are the latest celebs to emerge on the list for Washington's annual 'nerd prom,' the White House Correspondents' Dinner. Here's a list of other names.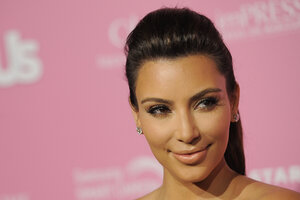 Chris Pizzello/AP
Every year around this time, Washington puts up with jokes about how it is "Hollywood for ugly people," and this year is no exception. That's because the annual White House Correspondents' Dinner is Saturday night, and the list of "beautiful people" on the guest list keeps growing.
The latest entry is reality TV goddess Kim Kardashian, coming as a guest of Fox. More important, she's also thinking of getting into politics. OK, Ms. Kardashian recently floated the idea of running for mayor of Glendale, Calif., which actually isn't an office one can run for, as Monitor colleague Gloria Goodale points out. But let's go with it. Here in Washington, ever-mindful that we have a bad rap in the looks department, we're hopeful that a run for Congress can't be far behind.
Kardashian's date is her "momager," Kris Jenner.
Actress Lindsay Lohan is also on the Fox News guest list. We're not sure Ms. Lohan qualifies as beautiful, given her personal problems, but we appreciate the gesture by Fox anchor Greta Van Susteren, who invited her.
---