A possible blessing for Dick Lugar in fight to retain US Senate seat
(Read article summary)
A primary vote Tuesday in Indiana will determine if Sen. Dick Lugar (R) will get the GOP nod to run again for his seat. It helps Lugar that Rick Santorum, who would have drawn a lot of conservative voters to the polls, is out of the presidential race, analysts note.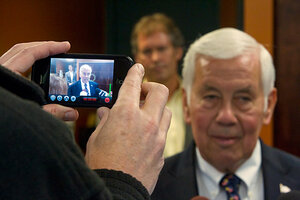 Michael Heinz/Journal & Courier/AP
Richard Lugar, currently the longest-serving Republican in the US Senate, could get pushed out of office by a rival from with his own party.
Tuesday's primary vote in Indiana pits Senator Lugar against state Treasurer Richard Mourdock, whose challenge is rooted in the themes that Lugar is out of touch both with his state and with an increasingly conservative Republican Party.
Mr. Mourdock's insurgency has shifted in recent weeks from a long-shot bid to an odds-on favorite as Hoosiers head to voting stations.
But with Lugar seeking to snatch victory from the jaws of defeat, here's one thing that the six-term Senate veteran can be glad of: Rick Santorum is no longer competing against Mitt Romney for the Republican nomination.
The primary outcome hinges on what types of voters turn out, and a hot presidential contest involving former Senator Santorum of Pennsylvania would have drawn more hard-core conservatives, including evangelical Christians, says Brian Vargus, a professor of political science at Indiana University in Indianapolis.
"If there was still a fight for the nomination between Santorum and [Mitt] Romney, Lugar would be toast," Mr. Vargus says. He notes that Santorum has endorsed Mourdock's bid to replace Lugar as the state's Republican Senate candidate.
In contrast to the live presidential battle that was being waged a few weeks ago, Tuesday's Indiana primary coincides with a move by Santorum to officially endorse Romney. The former Massachusetts governor, for his part, held a fundraiser in Indiana Monday.
---