Courting the cookie vote: Obama vs. Romney in the presidential bake-off
(Read article summary)
Forget Democrat vs. Republican. How about Chocolate Chip vs. Oatmeal Raisin? Political preferences are but one way to choose a White House occupant.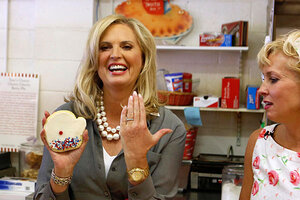 Larry Downing/Reuters
Never mind taxes, wars, immigration, same-sex marriage, or global warming – here's a question that is always at stake in any presidential election year: Chocolate Chip or Oatmeal Raisin?
Or this year's iteration: Mama Kaye's White and Dark Chocolate Chip or M&M?
It's not quite the Kitchen Debates, but for the past 20 years, Family Circle magazine's Presidential Cookie Bake-off has been a wildly popular sideshow to the presidential election campaign: Which candidate's spouse makes a better cookie?
The magazine has sponsored five previous contests in every presidential election year since 1992 when Hillary Clinton and Barbara Bush crossed cookie sheets and went mano-a-mano over Chocolate Chip Oatmeal (Clinton) vs. Chocolate Chip (Bush).
It works like this: The candidates' spouses offer up favorite cookie recipes for public consumption. Readers then whip up their own batches and vote on which cookie is tastiest.
This year, bakers can cast their votes for M&M cookies, courtesy of Ann Romney, or Mama Kaye's White and Dark Chocolate Chip, from Michelle Obama, through Family Circle's Facebook page.
---