Mitt Romney VP pick: Convention speaker list offers fresh tea leaves
(Read article summary)
Pressure is mounting on Mitt Romney to 'go bold' with his VP pick, even if the assumption is that he'll play it safe. A three-day bus tour at week's end is being eyed as a good time to make an announcement.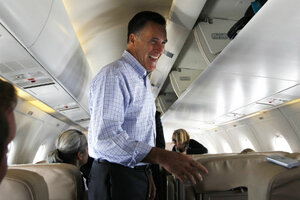 Charles Dharapak/AP
Could Mitt Romney's vice presidential pick come late this week – perhaps as he kicks off a three-day bus tour through battleground states that begins Friday?
That's what some campaign watchers are predicting, though Mr. Romney may opt to hold onto the suspense – and avoid competing for an audience with Olympics coverage, which ends Sunday – by waiting until closer to the GOP Convention in Tampa, Fla., held the last week in August.
Still, speculation over who the pick will be is only growing – and the announcement Monday of seven speakers at that convention seemed to narrow down the long list of contenders at least slightly.
The list of announced speakers includes former Secretary of State Condoleezza Rice, New Mexico Gov. Susana Martinez, South Carolina Gov. Nikki Haley, former Arkansas Gov. Mike Huckabee, Arizona Sen. John McCain, Florida Gov. Rick Scott, and Ohio Gov. John Kasich. None of their time slots were given, and other speakers – including the keynote speaker – will be announced closer to the convention.
---