Who coined the name 'United States of America'? Mystery gets new twist.
(Read article summary)
Historians continue to debate who came up with the formulation 'United States of America' as the name for the new nation. A new discovery could shift the discussion.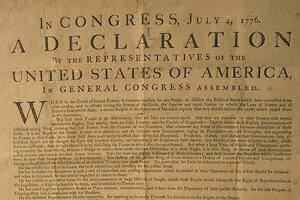 Elise Amendola/AP/File
It may seem surprising, but nobody is really sure who came up with the phrase, "United States of America."
Speculation generally swirls around a familiar cast of characters – the two Toms (Thomas Paine and Thomas Jefferson), Alexander Hamilton, Ben Franklin, and even a gentleman named Oliver Ellsworth (a delegate from the Constitutional Convention of 1787). But every instance of those gentlemen using the name "United States of America" is predated by a recently discovered example of the phrase in the Revolutionary-era Virginia Gazette.
So who was perhaps the first person ever to write the words "United States of America"?
A PLANTER.
That was how the author of an essay in the Gazette signed the anonymous letter. During that time, it was common practice for essays and polemics to be published anonymously in an attempt to avoid future charges of treason – only later has history identified some of these authors.
The discovery adds a new twist – as well as the mystery of the Planter's identity – to the search for the origin of a national name that has now become iconic.
Several references mistakenly credit Paine with formulating the name in January 1776. Paine's popular and persuasive book, "Common Sense," uses "United Colonies," "American states," and "FREE AND INDEPENDENT STATES OF AMERICA," but he never uses the final form.
---