Viewing the Romney-Obama debate in battleground Ohio: a tribal experience
(Read article summary)
There's much cheering and a close watch on social media as two partisan crowds in Ohio, a state that could swing the election, track the ebb and flow of momentum in Tuesday's presidential debate.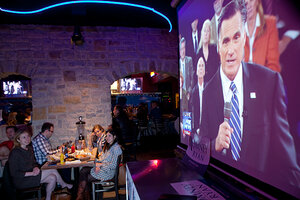 Melanie Stetson Freeman/The Christian Science Monitor
What do you do when you're invited to two parties on the same night? Easy. You go to both.
And so it was on Tuesday night, both the Romney and Obama campaigns here in Columbus, Ohio – the heart of the ultimate battleground state – set up "debate-watching parties" to cheer on their respective candidates.
A quick check on Mapquest revealed that they were taking place only about three miles apart, and voilà, a party-hopping strategy was born: We (your correspondent and her colleague, Monitor photographer Melanie Stetson Freeman) would start out at the Romney event, then after about 40 minutes, jump in our car and go over to the Obama event.
After all, we didn't want to appear biased. And there was so much at stake for each side: President Obama was under intense pressure to step up his game after a lackluster performance in the first debate two weeks ago. Mitt Romney, riding high from his Oct. 3 triumph, had an opportunity to build on the momentum that has turned the race into a dead heat.
Who would attend these events? And how would the partisans react? The Romney tribe – top Ohio campaign staff, volunteers, and supporters, about 130 people in all – gathered at a sports bar called Marshall's. Chris Lockwood, the US editor of The Economist, visiting from London, was also in the house. We counted 12 TVs, all tuned to Fox News. The libations flowed freely.
To be sure, each side cheered on its man and snorted derisively at the opposition. But in fact, there was also a fair amount of silent, attentive listening – and apparent monitoring of social media on smart phones and laptops. These were serious politicos.
---