Lena Dunham's sexy Obama ad: Youthfully alluring or bad taste?
(Read article summary)
The star of 'Girls' has cut a YouTube video for the president discussing her 'first time.' It made the Vote kind of uncomfortable, but then, we're not the demographic Obama is trying to reach.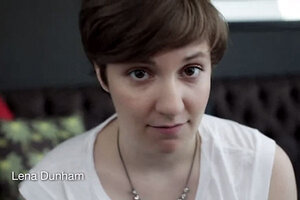 YouTube
Love it or hate it, one thing is certain about Lena "Girls" Dunham's suggestive new ad for the Obama campaign: She has created buzz.
And buzz is good when you're president of the United States and relying on young voters to pay attention to the fact that the election is less than two weeks away.
If you don't know who Ms. Dunham is, the ad is clearly not meant for you. But in certain circles, she's a rock star. Or at least an edgy, indie TV star, creator and lead character of the HBO series "Girls."
"Your first time shouldn't be with just anybody," Dunham says to the camera in a giving-advice-to-a-girlfriend tone. "You want to do it with a great guy."
She's talking, it turns out, about her first time voting, not, um, something else. But for a full minute, she's all about what the "first time" should be like – doing it with "someone who really cares about and understands women," someone who cares about birth control and who brought the troops out of Iraq.
OK, so maybe it's clear pretty soon into the one-minute video that Dunham is talking about voting for President Obama, but still. To people of a certain age – as in, people old enough to have a kid her age (like, maybe, this correspondent) – there's a certain "ick" factor. As of 2 p.m. on Friday, the day after the ad was posted on YouTube, it had more than 275,000 views, with 5,014 "likes" and 6,807 "dislikes."
---