Romney's Pennsylvania chase: State's Republicans trying hard to believe
(Read article summary)
Pennsylvania Republicans hope against hope that Mitt Romney, who made a late play for their state, can pull off an upset win there. But they acknowledge it's hard to get the math to add up.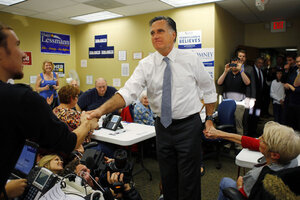 Brian Snyder/REUTERS
Mitt Romney's eleventh-hour run at Pennsylvania, long thought to be in President Obama's column, has raised hopes among the state's rank-and-file Republicans that their state could, for the first time since 1988, vote to put a Republican in the Oval Office.
It's what their hearts are longing for, but what their minds are struggling to believe could come to pass.
With polls in the Keystone State closing at 8 p.m., Republicans there know the state has more than 1 million more Democratic voters than GOP voters – and an unremarkable day of voting thus far challenges their ability to make the electoral math go their way.
"My brain tells me the math doesn't add up," says Charlie Gerow, a Republican strategist with more than 30 years of experience in the state. "But my gut tells me that [Mr. Romney will win]."
Speaking for conservatives' hearts are people like Ana Puig, a Pennsylvania field coordinator for the fiscally conservative group FreedomWorks. Ms. Puig, reached by phone, is working the polls in Bucks County, Pa., perhaps the premier "collar county" of Philadelphia that state experts believe could help swing the election into Romney's camp.
---