After much anticipation, Rep. Tom Davis won't seek U.S. Senate seat in Virginia
The spate of Republican retirements will make it difficult for his party to take control of Congress in 2008, he said at a Monitor breakfast Thursday.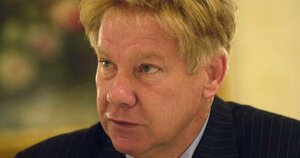 Andy Nelson - Staff/File
Washington - One of the Republican Party's most astute political tacticians said he would not run for the US Senate, citing both personal exhaustion and the troubled state of his party.
Speaking at a Monitor-sponsored breakfast for reporters Thursday, Rep. Thomas M. Davis III, who represents suburban Virginia, said he would not run for the Senate seat being vacated by John Warner next year. Mr. Davis had long been viewed to be preparing for such a race.
Along with announcing his own plans, Davis delivered a tough critique of the national Republican Party and its leadership. "It should be a competitive presidential race. The difficulty we have right now … is the White House seems tone deaf" on key issues, he said. "In the cloakroom, the members say 'I can't wait until it is over, until we get a new face on the party.' "
But Davis cautioned reporters: "Don't write us off," noting that "the political landscape will be vastly different, I think, next November than it is now."
Davis, who chaired the National Republican Congressional Committee for four years, explained why he decided not to run for the Senate. "I have had two exhausting years on the campaign trail." In 2006, he campaigned for his own reelection, and this year, he has been politicking for his wife, Virginia state Sen. Jeannemarie Devolites Davis, who is in a tight race.
Another factor was the Republican State Central Committee's decision earlier this month to select its candidate to replace Senator Warner through a convention rather than through a primary.
---