Margaret Spellings: 'No Child Left Behind' faces political head winds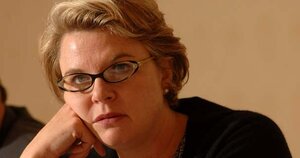 Andy Nelson/ The Christian Science Monitor
There is growing doubt whether Congress will reauthorize the No Child Left Behind law in the waning days of the current session.
Even Education Secretary Margaret Spellings is tempered in her confidence. "I have worked hard to get a reauthorization," she told a Monitor-sponsored breakfast with reporters on Thursday. "The bad news is that we are attempting to do it ... on the eve of a presidential election." Congress is supposed to make revisions in the law and reauthorize it every five years.
Whether or not Congress changes the legislation through reauthorization, it will remain on the books and "is strong as mustard gas," Secretary Spellings said.
In her view, the 2001 law, which requires schools to track the progress of students in math and English, is a major domestic legacy of the Bush presidency. When asked about the argument that President Bush has few accomplishments to offset failure in Iraq and that his most lasting legacy will be a Supreme Court dominated by conservatives, Spellings said, "I completely disagree with the thesis." She added that No Child "has been a huge game-changer in American education."
Given the resignation this week of longtime Bush adviser Karen Hughes, Spellings is one of the president's few remaining Texas friends still holding top-level administration jobs. "I'm going to stay unless something horrible happens to me physically," she said.
When asked about running for statewide office in Texas, Spellings said she had not "ruled anything in or out." She quipped that after government service, reporters might find her running the "snack food association."
---