Chertoff looks back on homeland-security efforts
The secretary is candid about some shortcomings as the fifth anniversary of the Homeland Security Department approaches. But he also cites progress.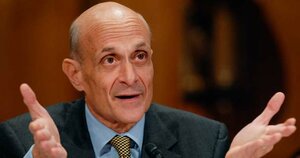 Jonathan Ernst/Reuters
Washington - The upcoming fifth anniversary of the Homeland Security Department prompted Secretary Michael Chertoff to meet with reporters Wednesday to assess progress in getting his sprawling department to function in an effective and unified way.
The department was founded in response to the terrorist attacks of Sept. 11, 2001. It includes a slew of disparate agencies – from the Coast Guard to Customs and Border Protection to the Secret Service. With 208,000 employees and a budget approaching $50 billion, the massive department formally began operation on March 1, 2003.
Mr. Chertoff, who became secretary in February 2005, underwent a baptism of fire as a result of the Federal Emergency Management Agency's poor response to hurricanes Katrina and Rita. He told journalists at Wednesday's Monitor-sponsored breakfast that considerable progress has been made.
"We've got a lot more to do, but I think we are going to leave for the next administration a pretty well-functioning department," Chertoff said. "The biggest [question] my successor will face is, 'Does the public and does Congress have the will to stick to the program, or are we going to start seeing people cannibalize Homeland Security because we have not been attacked for six years?' "
Perhaps because he will leave his post in less than a year, Chertoff was both blunt and witty in describing his frustrations with the way the federal government operates. "One thing I am sick and tired of is an approach to everything we do, which is, 'Let's not pay attention until the disaster happens. Then we will have a hearing. We will punish somebody, and then we will spend a lot of money making up for what happened afterwards.' "
---