Romer and Mehlman join forces on education reform
The Former Democrat and Republican party chairs want education to be a bigger part of the 2008 campaign.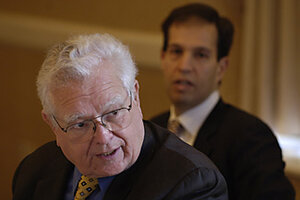 Andy Nelson
The former chairmen of the Republican and Democratic parties have come together in a bipartisan effort to push education reform to center stage in the 2008 presidential campaign.
Former Democratic National Committee Chairman and Colorado Governor Roy Romer and former Republican National Committee Chairman and Bush White House political affairs director Ken Mehlman were the guests at Thursday's Monitor breakfast. Mr. Romer is chairman and Mr. Mehlman is a trustee of Strong American Schools. The organization describes itself as a nonpartisan campaign to make education a top national priority by making the subject a centerpiece of the 2008 election.
"This nation has been drifting back in comparison with the rest of the world for the last 20 years in education," Romer said. After serving as governor, Romer was superintendent of the Los Angeles Unified School District from 2001 to 2006. "Where we used to be No. 1 or No. 2, we are now, if you compare 15-year-olds," 21st among 30 industrial nations in science, he said. "The rest of the world has advanced very rapidly in education, and we have been making some advances but not nearly at the same pace," he argued.
In a front page story Thursday, The New York Times reported on what it called a "dropout epidemic" so pronounced that only about 70 percent of the 1 million American students who start ninth grade each year graduate four years later.
---