McCain must separate himself from Bush, says strategist
Differences include control of federal spending and climate change, argues adviser Charlie Black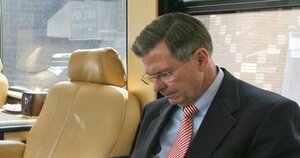 Mary Altaffer/AP
A key challenge for John McCain's presidential campaign will be to make sure that voters do not see the Arizona senator's candidacy as a continuation of the Bush presidency, given Mr. Bush's low approval numbers.
"How do you 'separate' McCain from Bush?" asked Charlie Black, senior adviser to the McCain campaign, at a Friday lunch with reporters sponsored by the Monitor. He then ticked off several issues where the two men disagree, including control of federal spending and Iraq war strategy.
"A lot of people know John McCain, know his background and his history and his record," said Mr. Black, a major force in Republican politics since 1976, when he worked on Ronald Reagan's bid to wrest the nomination from Gerald Ford. "Those who do [know McCain], understand he is not a protégé of President Bush.... There are some differences on issues, on significant issues, too, that help drive the point home."
---