Johnson resigns post in Obama camp in flap over home loans
He'll no longer head vice-presidential search committee, a casualty of what DNC Chairman Dean had called 'a Republican-planted story.'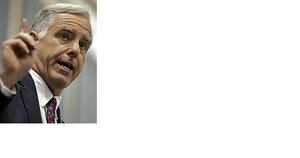 Cheryl Senter/AP/File
The head of presumptive Democratic nominee Barack Obama's vice-presidential search committee stepped down Wednesday, amid allegations that he had received favorable loans from troubled mortgage company Countrywide Financial.The resignation of James Johnson, former CEO of Fannie Mae Corp. and a longtime Democratic insider, ended an episode in Senator Obama's presidential campaign that had turned into a major distraction from his message of change and an end to "politics as usual."
At a Monitor breakfast Wednesday morning, before Mr. Johnson's resignation, Democratic National Committee Chairman Howard Dean played down Johnson's role in the campaign and hit back hard at the Republican Party.
"Johnson doesn't get paid, he's a volunteer," Mr. Dean said. "Secondly, since it was a Republican-planted story, obviously it's fair to say that the Republicans are hypocrites, and they are. The guy who's running the McCain campaign is a lobbyist who's on leave, Rick Davis. Then they take plenty of lobbyist money; the RNC [Republican National Committee] takes lobbyist money. So I mean, what is this? This is nuts."
---