McCain political director: ground game taking off
Though McCain's ground effort started late, old Bush hand Mike DuHaime says it can catch up with Obama's.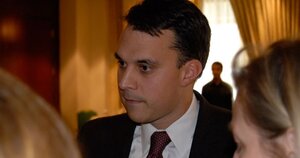 Robert Frazier
Four years ago, Mike DuHaime was in the middle of the well-oiled Bush reelection operation, helping organize the get-out-the-vote effort that would keep the Republicans in the White House for a second term.
This year, Mr. DuHaime is the top dog in John McCain's campaign in charge of ground operations – overseeing all the staff and volunteers who knock on doors and make phone calls to get voters to turn out. And even though the McCain effort has lagged behind Barack Obama's, DuHaime talks confidently about catching up.
"We're going to have as many staff and offices as they have," DuHaime told reporters Wednesday at a Monitor lunch.
He had clearly been looking at the numbers from four years ago. "Last week, for the first time, we did more phone calls and door knocks than the Bush campaign did in the same week of 2004," said the 30-something DuHaime, who National Journal's Hotline has called a "rising star."
"It was well over a million. We're on pace now where we do seven figures easily in a week and usually in a few days."
Around the Republican convention, which was electrified by the selection of Alaska Gov. Sarah Palin as Senator McCain's running mate, the campaign got "a nice big boost, a shot of adrenalin," DuHaime says. That has translated into more money, more staff, more offices, and a more robust get-out-the-vote drive – especially critical now as early voting starts in many states.
---