Democratic strategists: Election could herald a 'lost generation' for GOP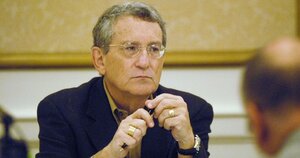 Robert Frazier
While the McCain campaign says its candidate can still pull out a win, two prominent Democratic strategists – James Carville and Stanley Greenberg – say Democratic victories in the 2008 presidential and congressional elections could be so significant that they lead to a "lost generation" among Republicans.
Steve Schmidt, who is running John McCain's campaign day to day, this week told the New York Times that, "we have ground to make up, but we believe we can make it up."
But at a Monitor-sponsored breakfast for reporters on Friday, Mr. Greenberg said that Sen. Barack Obama's 12-point lead among independents in the National Public Radio Poll "puts this election well in the position to be an earthquake." Greenberg was President Clinton's pollster and his firm helps conduct the NPR poll.
---
Follow Stories Like This
Get the Monitor stories you care about delivered to your inbox.