Chertoff: US can learn from Mumbai attacks
The Homeland Security Secretary said government agencies must be integrated in order to be effective.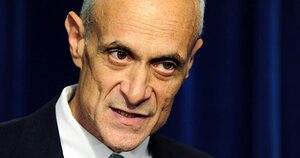 Karen Bleier/AFP/Newscom
The US is drawing lessons from the attacks in Mumbai (formerly Bombay) that could inform thinking on how government agencies could be better structured and prepared for terror attacks, says the top US official on homeland security.
Homeland Security Secretary Michael Chertoff said government agencies such as his, which is an amalgamation of several entities, must be integrated in order to be effective. A big problem in Mumbai was the lack of coordination between the fire and police departments.
Some of the more "sophisticated" US cities have achieved high levels of coordination but others have not, he said.
"When you look at a crisis or an emergency, you cannot stovepipe your emergency response and your police response," he said Wednesday at a breakfast with reporters hosted by the Monitor. "You have to have a coordinated plan and coordinated execution."
His remarks come after various governors complained this week that the Federal Emergency Management Agency (FEMA) was not dispensing money properly and should be removed from the umbrella of the Department of Homeland Security (DHS).
Mr. Chertoff, who was appointed secretary in 2005, is often at the center of the debate in government circles on how best to protect the country and respond to disasters. A former judge, he is widely respected for the long view he takes on matters of national security.
---