Pollster: Voters like Obama, hate economy, will ignore Blagojevich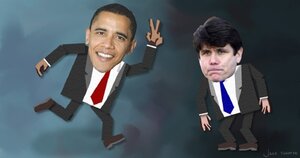 Jake Turcotte / AP Photo
The public is bullish on Barack Obama, pessimistic about the state of the nation, and unlikely to change its view of the president-elect as a result of the alleged attempt by Illinois' governor to sell Obama's US Senate seat.
That is the assessment of Peter Hart, a noted Democratic pollster, who spoke at a Monitor sponsored breakfast for reporters on Thursday.
Post-election honeymoon
In the latest NBC News-Wall Street Journal poll, which Hart helped conduct, the approval scores for Barack Obama "are indeed stratospheric, and I think as much as anything the nation is hoping for better times," Hart said.
The public's feelings about the president-elect - what Hart called the feeling thermometer - are "a very robust 66 percent positive, 11 percent negative."
"That represents his highest mark we have ever measured," he said.
Good bye to a bad year
While the public is filled with what Hart calls "an excess of hope" about Obama, the view of the nation's condition is less favorable. "Our mood about where the direction is is exceptionally negative," Hart said. "We feel this is one of the worst years we have faced. Half of the American public, 48 percent, feel that way."
---