Top pollster to Republicans: don't rush the comeback
Bill McInturff was the featured guest at Thursday's Monitor Breakfast.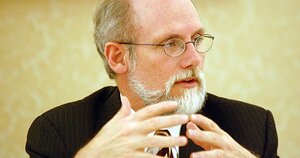 Robert Frazier
Republicans should not try to rush their comeback after losing the presidency, says Bill McInturff, the lead pollster for John McCain's campaign.
"My point to Republicans is we have a long time," said Mr. McInturff, a partner in the polling firm Public Opinion Strategies. The New York Times called his firm "the leading Republican polling company."
With two years until the next congressional elections and four years until the next presidential race, "Comeback doesn't have to start the first day, the day after the swearing in," McInturff said.
Don't interrupt the mood
Speaking to reporters at a Monitor-sponsored breakfast, McInturff noted the strong support that President-elect Obama has among all voters, not just Democrats. "In terms of what Americans are looking for, again they are very, very committed to wanting a successful presidency. And as a party, I would be pretty temperate over the first three to five months to make sure that mood is not being interrupted by the appearance of what we are doing."
He argued that Republicans should wait to see if Democrats, enjoying their control of the White House and both houses of Congress, do themselves in. "We have talked about rope. People tend to take the rope. And you should let them have it for a while and just wait if there is an over step," he said.
Embarrassing words on tape
McInturff said he sees little impact on the Obama presidency from the controversy surrounding Illinois Democratic Governor Rod Blagojevich, accused of trying to sell the US Senate seat that Obama vacated.
---