Head of 9/11 Commission: Christmas intel errors were different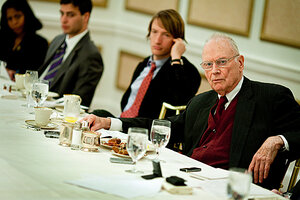 Michael Bonfigli / The Christian Science Monitor
A former vice-chair of the 9/11 Commission and a member of President Obama's inner circle of national security advisers says the Christmas Day terrorist attempt was the result of problems in analysis and data management that won't be solved by reorganizing the nation's intelligence bureaucracy.
"9/11 was a failure to share information [whereas] what we had Christmas Day was a failure to analyze and to integrate" relevant information on the bombing suspect, says Lee Hamilton, a former Democratic congressman and now president and director of the Woodrow Wilson International Center for Scholars.
At a Monitor breakfast Thursday, Mr. Hamilton said a focus on structural changes to the intelligence system would very likely distract policymakers in the fight against a sophisticated, agile, and adaptive enemy.
"I do not see this as a structural problem," Hamilton says. "I see it as a situation where a number of government employees … simply missed things they should have caught."
The information trickling out on the Christmas Day attack – including from Obama perhaps as early as Thursday afternoon – will highlight basic but egregious analysis mistakes, he said.
"It is fundamentally a data management problem. How do you manage billions, not millions but billions, of bytes of information every day?" he says, adding that it is "a colossally difficult job."
---