James Carville to Obama: repackage your economic plan
Democratic strategists Stanley Greenberg and James Carville say the Obama White House needs to do a better job explaining its economic plan as it heads toward the 2010 elections.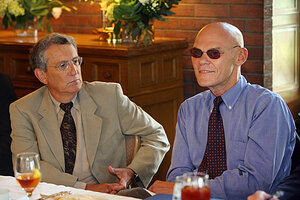 Melanie Stetson-Freeman/Staff/File
The Obama White House needs to do a better job communicating a coherent economic plan as it heads into the 2010 election season, according to James Carville and Stanley Greenberg – two top Democratic strategists who spoke at a Monitor-sponsored breakfast on Wednesday.
New unemployment figures coming out Friday are expected to show the economy finally gained jobs in March after months of job losses. Though that news would be welcome, the recession is still being keenly felt by voters.
"The recession has actually accelerated for people who are living in this economy," said Mr. Greenberg, chairman of Greenberg Quinlan Rosner Research.
For the population segments that helped sweep President Obama into office – unmarried women, Latinos, young voters – the recession "has gotten much worse for them and they have gotten more pessimistic," Greenberg said.
In this difficult climate, the Obama White House needs to improve its communications, according to Mr. Carville, a political science professor at Tulane University who ran Bill Clinton's presidential campaign.
---