Gulf oil spill could be 'Obama's Katrina,' says top Republican McCarthy
Rep. Kevin McCarthy, the Republican chief deputy whip, says the president is in political danger because of his response to the Gulf oil spill.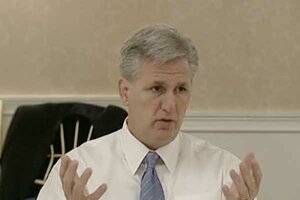 Fora.tv screengrab
Top House Republican Kevin McCarthy (R) of California says that the oil spill in the Gulf could "very well be" President Barack Obama's Katrina, referring to the damage done to voters' confidence in President Bush by his administration's response to the hurricane that hit New Orleans in 2005.
Rep. McCarthy ,who is the Republicans' chief deputy whip and chief recruiter of GOP House candidates, spoke at a Monitor-sponsored breakfast for reporters on Thursday. "I think [Obama] has a serious, long term problem here" given how long it takes to clean up the after effects of on oil spill of this magnitude, he said.
---