Q&A with Massachusetts Sen. John Kerry
Senator John Kerry, chairman of the Senate Foreign Relations Committee and coauthor of a major climate and energy bill, discussed the chances of the bill clearing Congress this year at a May 26 Monitor Breakfast.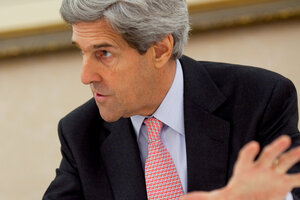 Michael Bonfigli/Special to The Christian Science Monitor/File
Massachusetts Sen. John Kerry chairs the Senate Foreign Relations Committee and is coauthor of pending major energy and climate change legislation. The former Democratic nominee for president was guest speaker at the May 26 Monitor breakfast in Washington, D.C.
On the American Power Act legislation he has co-written with Sen. Joseph Lieberman (I) of Connecticut:
"The American Power Act is the single biggest economic transformational opportunity that we have to move into the largest market in the world.... The market we are looking at in energy – efficiency, clean energy, alternative, renewable – ... is a $6 trillion market and it has 6 billion users. It is really the mother of all markets.... Right now, China, India, Brazil, Mexico, other countries ... are moving much more rapidly than the United States to exploit those markets."
On whether the Gulf oil spill will make Congress less inclined to pass his energy/climate bill, which calls for new offshore drilling:
"I disagree.... We are not going to stop drilling in the Gulf tomorrow, folks. Let's be realistic. There are 48,000 wells out there. One of them went sour. About 30 percent of our transportation fuel comes from the Gulf. You think Americans are going to suddenly stop driving to work tomorrow?... Not going to happen."
---