Report: What does Obama's global popularity bring the US?
At a Monitor Breakfast for reporters Thursday, Pew Research Center president Andrew Kohut, former Secretary of State Madeleine Albright, and former senator John Danforth discussed a new report from the Pew Global Attitudes Project.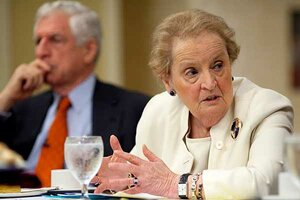 Michael Bonfigli/Special to The Christian Science Monitor
President Obama is "more popular overseas in many countries than he is at home," says Andrew Kohut, President of the Pew Research Center.
Mr. Kohut spoke at a Monitor-sponsored breakfast for reporters to discuss a new Pew Global Attitudes Project survey which canvassed 24,000 individuals in 22 nations. While 65 percent of those Pew surveyed in the US had a lot or some confidence in President Obama, 90 percent of those in Germany, 87 percent of those in France, and 95 percent of those in Kenya had confidence in him. The lowest popularity rating for the president came in Pakistan where only 8 percent had confidence in him. (The full report is at www.pewglobal.org)
In addition to the findings about Mr. Obama's popularity, the exhaustive report found opinions of the United States have remained much more positive than they were for much of George Bush's term in office.
---