Q&A with Tea Party leader Dick Armey
FreedomWorks co-chairman Dick Armey discussed President Obama's handling of the BP oil spill crisis at a June 16 Monitor lunch.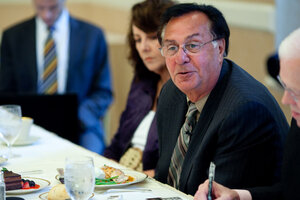 Michael Bonfigli/Special to The Christian Science Monitor/File
'Tea party' leader Dick Armey, Republican House majority leader from 1995 to 2003, now co-chairs FreedomWorks, a major force in the tea party movement. He was the speaker at the June 16 Monitor lunch in Washington, D.C.
On the tea party movement:
"This is now the biggest swing movement on the field of American politics. It is also the only movement that has any energy or sense of purpose. Liberals are confused … [and] conservative Republicans have gone through another identity crisis and they are trying to find themselves. These [tea party] folks have a cohesive understanding of who we are and what do we want for our country."
On tea party members' reaction to his long connection with Congress:
"The grass-roots activists ... are wary and suspicious of anybody who ... has standing within a political party or has held public office. They give their acceptance quite slowly.... I am one of the most highly regarded persons of national recognition in the country among the grass-roots activists."
On President Obama's handling of the BP oil spill crisis:
"The Constitution does not envision the president of the United States saying that 'I will decide what compensations, what redress will be elicited from a British-owned company.' There are courts for this purpose.... The Constitution is far ahead of the game compared to where this president is with his current fulminations about what he will decide about whose butt to kick."
---