Koran burning a distraction, says GOP leader Haley Barbour
A Florida minister's Koran burning plan was condemned by Mississippi Gov. Haley Barbour, chairman of the Republican Governors Association, at a Monitor-sponsored breakfast for reporters Wednesday.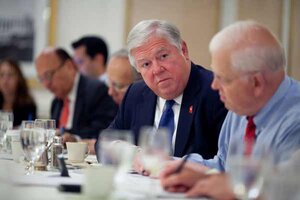 Michael Bonfigli/Special to The Christian Science Monitor
Mississippi Governor Haley Barbour, Chair of the Republican Governors Association, condemned the plan by a Florida minister to burn copies of the Koran to commemorate the September 11 attacks on the United States.
Speaking at a Monitor-sponsored breakfast for reporters, Barbour said, "I do not think well of the idea of burning anybody's Koran or Bible or Book of Mormon or anything else. I don't think there is any excuse for it."
Politico recently referred to Barbour, a former chair of the Republican Party and potential presidential candidate in 2012, as "the most powerful Republican in American politics – at least for the next three months."
Barbour was asked by a reporter about what some critics see as prominent Republicans, including former House Speaker Newt Gingrich, "trying to whip up anti-Muslim feeling as political tactic" using the issue of a plan to build an Islamic Cultural Center near Ground Zero in New York City.
"I don't see it," Barbour said. " But I will tell you this. Any issue that takes peoples eye off of unemployment, job creation, economic growth, taxes, spending, deficits, debts is taking your eye off the ball. That is what the American are concerned about, it is what the American people don't like about the Democrats." [Editor's note: An earlier version of this item included an incorrectly transcribed quote.]
---
Follow Stories Like This
Get the Monitor stories you care about delivered to your inbox.