Q&A with GOP official Haley Barbour
At a September 8 Monitor breakfast, Mississippi Governor and Republican Governor's Association chairman Haley Barbour discussed the current political climate, his background as a lobbyist, and President Obama.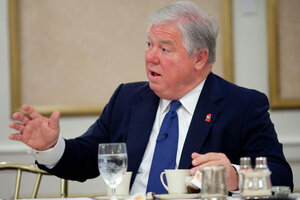 Michael Bonfigli/Special to The Christian Science Monitor
Haley Barbour is governor of Mississippi and chairman of the Republican Governors Association. Politico recently described him as "the most powerful Republican in American politics – at least for the next three months." He was the guest at the Sept. 8 Monitor breakfast in Washington, D.C. Current political environment:
"The environment is as good [for Republicans] as it's ever been in my career.... Still, nothing is done till it is done, and we've got to run hard through the finish line if we are going to have good results."
Democratic candidates and President Obama:
"Democrats are running from him like scalded dogs. When he goes somewhere, the real question is, is the Democrat candidate for governor going to show up, or is he going to have a root canal that day so he can get out of going?
Whether Republicans are trying to whip up anti-Muslim sentiment as a political tactic, using the planned Islamic Cultural Center near ground zero:
---