Q&A with Governor Tim Pawlenty
At a July 26 Monitor breakfast, Minnesota Governor Tim Pawlenty (R) discussed the US war in Afghanistan, his plan to reform Medicare, and whether he will run for president in 2012.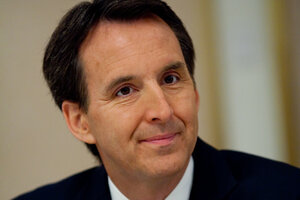 Michael Bonfigli/Special to The Christian Science Monitor
Governor Tim Pawlenty of Minnesota is expected to run for the 2012 Republican presidential nomination. Currently vice chairman of the Republican Governors Association (RGA), he was guest speaker at the July 26 Monitor breakfast in Washington, D.C.
On whether he will run for president:
"I am finishing my term as governor. I am the vice chair of the RGA.... So I am busy for 2010. I am going to make a decision about my future professionally, personally, and politically in early 2011.... As to what that looks like, it won't be dependent upon what other people do or don't do."
On the US war in Afghanistan:
"You cannot put an arbitrary deadline in Afghanistan.... If we are serious about what this means about terrorism and we are serious about what it means in terms of the threat to the United States of America and our national security interests, then we need to be serious about seeing it through to the point where we are satisfied our objectives have been met."
---
Follow Stories Like This
Get the Monitor stories you care about delivered to your inbox.