Admiral Mullen intent on fighting Afghanistan war, not fighting about it
Michael Mullen, Obama's top military adviser, on Wednesday dismissed reports of infighting within the Obama adminstration over Afghanistan war strategy.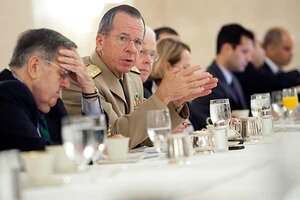 Michael Bonfigli/Special to The Christian Science Monitor
Joint Chiefs of Staff Chairman Michael Mullen waved away questions about dissension within the Obama administration about the war in Afghanistan outlined in a new book, saying both sides in the dispute were now focused on implanting the current strategy.
"Optimists or pessimists notwithstanding, everybody at that table agreed that this was the strategy and that we would go execute it. And that is where I am focused right now," Admiral Mullen said at a Wednesday morning breakfast for reporters.
Bob Woodward's latest book, "Obama's Wars," cites memos and interviews showing deep divisions within the administration over the course of the war in Afghanistan. Mullen and other military leaders are portrayed as favoring a strategy of adding 40,000 additional troops, while the book describes President Obama and key White House advisers seeking a more limited commitment of additional resources and a clearer exit plan. In the end, the president went to the US Military Academy at West Point and announced a plan to send 30,000 additional troops.
---