Kathleen Sebelius sees 'dangerous' flow of anonymous campaign cash
Health and Human Services Secretary Kathleen Sebelius said she has seen dozens of political ads paid for by generic-sounding organizations with anonymous money.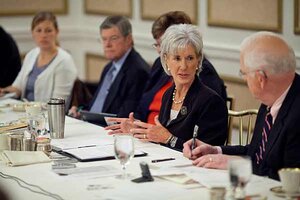 Michael Bonfigli/Special to The Christian Science Monitor
Health and Human Services Secretary Kathleen Sebelius has visited 26 states selling health-care reform legislation and says "there is money flowing in unbelievable ways" around the country that the funding is "very anonymous."
At a Monitor-sponsored breakfast for reporters in Washington on Thursday, Secretary Sebelius, the former Democratic governor of Kansas, said, "the untold story of 2010 is not the "tea party" or not the health-care bill, or a number of these issues. It is the amount of money that is flowing in districts around the country and particularly the amount of anonymous money."
A key reason for the increased amount of anonymous cash is the Supreme Court's January 2010 ruling in "Citizen's United versus Federal Election Commission." The high court decision makes it possible for corporations and unions to donate anonymously to nonprofit civic leagues and trade associations who can then turn around and spend the funds on political advertisements.
"I haven't been any place where there aren't dozens of ads now being run and nobody knows who is behind them," Sebelius said. "I am used to a political system where people engage in battles and you know who brought them to the dance. And that becomes part of the discussion."
---
Follow Stories Like This
Get the Monitor stories you care about delivered to your inbox.